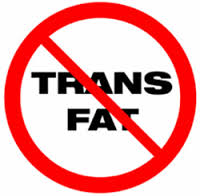 Excerpt  from Dr Mercola's FDA Sued, Forced to Remove Safety Status on Trans Fats
Trans fats are formed when hydrogen is added to vegetable oil during food processing in order to make it solidify. This process, known as hydrogenation, makes fats less likely to spoil, so foods stay fresh longer, have a longer shelf life and also have a less greasy feel. They have been estimated to be in 12% of our processed foods. Food manufacturers can label things trans-fat free if the serving size contains less than .5 grams per serving.  Many serving sizes for fried foods are purposefully low to market as trans-fat free.  Increasing your daily consumption of trans fats from 2 grams to 4.67 grams increases your risk of heart disease by 30 percent!

Research has also found that trans fats contribute to cancer, bone problems, hormonal imbalance and skin disease; infertility, difficulties in pregnancy and problems with lactation; low birth weight, growth problems, and learning disabilities in children.
For the past 60 years, saturated animal fats have been wrongfully accused of causing heart disease, despite mounting evidence showing that saturated fat is actually critical for optimal health while trans fat is the dietary fat causing heart disease.
Trans fat, found in margarine, vegetable shortening, and partially hydrogenated vegetable oils became widely popularized as a "healthier alternative" to saturated animal fats like butter and lard around the mid-1950's. Its beginnings go back 100 years though, to Proctor & Gamble's creation of Crisco in 1911.1
In 1961, the American Heart Association began encouraging Americans to limit dietary fat, particularly animal fats, in order to reduce their risk of heart disease. In the decades since, despite low-fat diets becoming increasingly part of the norm, heart disease rates have soared.
It's been a long time coming, but on November 7, 2013, the US Food and Drug Administration (FDA) announced it is now considering removing partially hydrogenated oils—the primary source of trans fats—from the list of "generally recognized as safe" (GRAS) ingredients.2
The FDA will accept comments for 60 days, after which a permanent decision will be made. If finalized, the FDA's decision means that food manufacturers can no longer use partially hydrogenated oils, i.e. trans fats, in their products without jumping through hoops to get special approval.
The comment period began November 8, 2013. I urge you to submit your comment to the FDA, telling them you want them to finalize its determination that partially hydrogenated oil is no longer general recognized as safe for use in food.
You can submit comments electronically to the FDA docket on regulations.gov. Make sure to use docket number FDA-2013-N-1317. To submit comments by mail, send to FDA at the following address. Again remember to include the agency name and docket number:
Division of Dockets Management (HFA-305)
Food and Drug Administration
5630 Fishers Lane, Rm. 1061
Rockville, MD 20852
Click here to read an extensive article by Dr Mercola regarding the science and history of trans-fats
http://articles.mercola.com/sites/articles/archive/2013/11/20/trans-fats-hydrogenated-oil.aspx?e_cid=20131120Z1_DNL_art_1&utm_source=dnl&utm_medium=email&utm_content=art1&utm_campaign=20131120Z1&et_cid=DM33810&et_rid=343298161